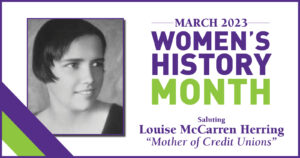 Louise McCarren Herring was 23 years old and fresh out of the University of Cincinnati with a business degree.  She landed her first job in the corporate office of Kroger Company, a large Cincinnati-based grocery store chain. 
While at Kroger, Herring saw what debt was doing to people. This was in the early 1930s, the Depression era.  She became upset at the "Bucket Shop"—a loan operation that charged outrageously high interest rates. When banks refused loans to people, they would turn to the Bucket Shop out of desperation.  Borrowers from the Bucket Shop ended up in such deep debt that they could not get out of.
Fortunately, Herring heard about a new kind of financial institution where workers could pool resources to borrow money—the credit union. With Kroger's encouragement, she set up 13 small credit unions for fellow Kroger employees.
Credit unions began to grow in a big way across the U.S. and leaders agreed to establish a nationwide organization. They called a meeting for August 1934 in Estes Park, Colorado and asked credit unions each to send a delegate.  Kroger sent Louise Herring.
Herring proved her worth to everyone, and she ended up serving as secretary for the Estes Park conference, which went on to create the organization now known as the Credit Union National Association (CUNA), the trade association for all U.S. credit unions.
Herring also became the first managing director of the Ohio Credit Union League.  She traveled all over Ohio to help people start their own credit unions and helped organize some 500 of them.  The state of Ohio named her the "Mother of Credit Unions."  She is a member of both the national credit union's Hall of Fame and the Ohio Women's Hall of Fame.
Herring believed in the economic democracy, which meant equal and fair access to quality financial services.  She felt that credit unions could provide for people of all walks of life.  Helping others was what she was all about.  She may have never imagined that her work would someday help her.  As an elderly woman, when Herring underwent open-heart surgery, the doctor recognized her.  Years before, she had approved a credit union loan that enabled him to finish medical school.