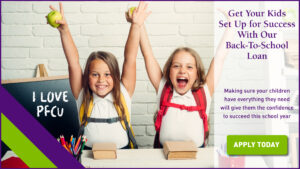 Get Ready for School with a Low Rate Back-To-School Loan
It's almost time for the children to go back to school. Members want their children to be well prepared and successful for the new year. However, school supplies, new clothes, dorm room expenses, a laptop, cell phone, sports, and extra curricular activities all add up. If they need help to make this the best school year ever, let them know about our low rate Back-To-School Loan.
Special rates that are lower than most credit cards.
Borrow between $500 – $2,500 | As low as 10.99% APR* for 12 Months
Pay as little as $221 per month for $2,500 borrowed!

Borrow between $2,501 – $5,000 | At 11.99% APR* for 24 Months
Pay as little as $236 per month for $5,000 borrowed!
Payments calculated at 10.99% APR with a term of 12 months, equate to a principal and interest payment of $44.19 per $500.00 borrowed. Payments calculated at 11.99% with a term of 24 months, equate to principal and interest payment of $23.53 per $500.00 borrowed. Other rates and terms available. Rates are subject to change. Minimum credit score of 625 required.  *APR = Annual Percentage Rate.
For more information, ask to speak to a Loan Officer at 847.697.3281.
Signature Loans
With your good credit, you need nothing more than your signature to borrow money. Just bring us the bill and we will help you pay it off!
This loan is great for paying
Credit Card Debt
Medical Bills
Car Repair Bills
Tuition
Large Appliance Purchases
Share Secured Loan
Use the funds in your share account to secure the loan and continue to earn dividends on the share balance while you pay yourself back.
Questions? For detailed information, please contact one of our loan officers at 847.MYPFCU1 / 847.697.3281 or loans@mypfcu.org.