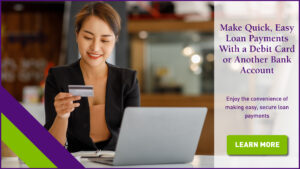 PFCU Loan Payment Portal with Repay
PFCU has partnered with the payment processing provider, Repay, to bring you the convenience of making loan payments with a debit card or ACH (another bank account).  It is quick, easy, and secure!  This service is in addition to the other payment options available in Online Access.

You can do the following with PFCU's Repay Loan Payment Portal:
View your PFCU loan balances, payment amount, due date, and payment history
Make a one-time loan payment
Schedule payments
Create a PFCU Repay profile or use the one-time Guest Account Lookup
Receive text reminders to alert you of your upcoming loan payments.


You can also call us to process your transaction at 847.697.3281.

There is a $4.95 Convenience Fee for using the service.