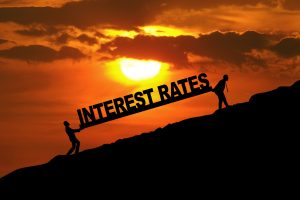 To combat inflation, the Federal Reserve raised its benchmark interest rate on May 4th by half a percentage point, its most aggressive step to fight a 40-year high in inflation.  This is the second increase this year and there are five others planned for 2022. 
How an Interest Rate Hike Will Impact Your Finances
When the Federal Reserve raises interest rates, banks, credit unions, and lenders respond. Here's where you may notice higher rates:
Credit Cards
Credit card interest rates are often changing based on what's happening in the market. When the Fed increases interest rates, credit card companies will likely raise their rates on their variable rate cards. However, this will only impact consumers who carry a balance. If you pay off your balance every month, then nothing will really change for you.
If you do have credit card debt, you may find yourself owing more interest every month until you can pay off the balance.  To combat the increase, look for balance transfer offers, especially those with a 0% APR, such as Partnership Financial Credit Union's 0% APR for 6 months offer with no balance transfer fee.  During the promotional time periods, you will not be charged any interest on the balance if you at least make the minimum payment every month.  If you pay off all or most of the balance before the offer ends, you could save hundreds, possibly thousands, of dollars in interest.  However, be aware that most card companies charge a 3% balance transfer fee, so make sure you can pay off most, if not all, of the balance or you won't end up saving much money.
Another option is to get yourself non-variable rate credit card.  These cards are not tied to the prime rate.  PFCU offers a PFCU Visa Credit Card, which is a non-variable rate card with rates as low as 9.90% APR.    
Savings Accounts
With the Federal Reserve raising rates, you may notice that the interest rate on your savings account will also go up.  The difference may be minimal since the Fed is not substantially increasing interest rates.
Variable-Rate Loans
A variable-rate loan is a loan with an interest rate that changes throughout the loan term. There are many types of loans that can have variable interest rates, including mortgages and student loans.  When the Federal Reserve increases interest rates, lenders will also increase the interest rate on a variable-rate loan. The increase may not happen right away, as it depends on the loan's terms and conditions.
If you do have a variable-rate loan, contact the lender, and ask them when your interest rate will change and what the new rate will be.  This can help you budget for the increase.  If you can't afford the price increase, consider refinancing to a non-variable interest rate. If you really want a lower monthly payment, choose a longer-term loan when you refinance to end up with lower monthly payments.  Keep in mind that this will have you paying more interest in total. 
Investments
Rising interest rates may or may not correlate to a rise in the stock market and other investments because the stock market is affected by other factors, including unemployment figures, current events, etc.  When the Fed raises rates, it may be a sign that the economy is improving. This can result to an increase in the stock market.  However, the Russian invasion of Ukraine has had a significant negative impact on the stock market, so it's uncertain what the rate increase will have. 
Generally, you shouldn't change your investment approach based on rising interest rates. Keep your strategy the same and talk to a financial planner if you're concerned.