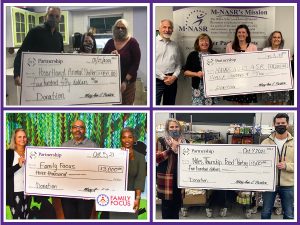 Partnership Financial Credit Union has maintained a strong commitment to assist those in need within the communities that it serves.  Without regard to any relationship with the credit union, it remains committed to provide this financial assistance.  Working with various charitable organizations has proven the most efficient way to offer the broadest level of support for the resources that is most in need.
Previous donation beneficiaries include local food pantries, youth and senior support organizations, various school-oriented programs, and animal welfare shelters to name a few.  Click HERE to see some of the past donation events in which we participated.
Partnership Financial Credit Union serves those in the following area: the Illinois/Wisconsin border on the north, North Avenue (Route 64) on the south, Lake Michigan on the east, and Route 47 on the west, including the townships of Lyons, Proviso and York.
If your charitable organization falls in our service area and would like to request financial support, please email your completed application to CDA@mypfcu.org.
Charitable Applications