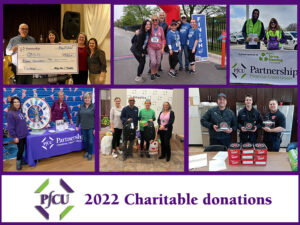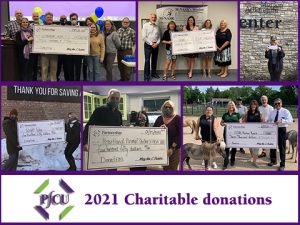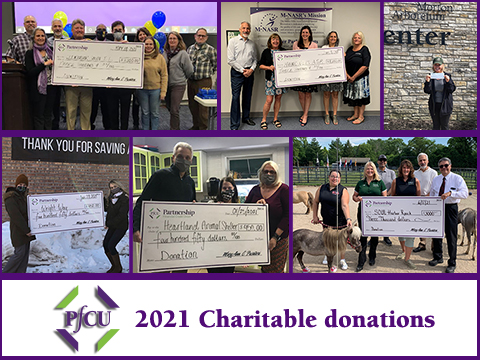 Partnership Financial Credit Union (PFCU) donated $28,720 to local charities in 2022. PFCU has distributed $16,000 in funds granted by the Federal Home Loan Bank. An additional $5,000 in funds were granted by the PFCU charitable account. PFCU has distributed these funds to non-for-profit charities throughout local communities, primarily in the northern suburbs of Chicago.
Each charity was given up to $5,250 to assist them in their charitable contributions and important work they do throughout the community.
"We are excited to be able to make these contributions by reaching out to local charities to offer our assistance. We are proud to be able to continue our unwavering commitment to non-for-profit businesses in our local communities" Mary Ann Pusateri, CEO of Partnership Financial Credit Union.
Listed below are the non-for-profit charities that received funds:
2022
Niles North Athletic Booster Club
Illinois Credit Union Foundation
Friends of the Franklin Park Library
Self Reliance Foundation
Relay for Life
Prostate Cancer Foundation
Triton College Foundation
Kiwanis Club of Northlake
Glenbrook High School Silent Donation
Franklin Park Community Fund
Glenbrook High School Instrumental League
American Foundation for Suicide Prevention
Morton Grove Days
2021
Morton Arboretum
Wright Way Shelter
Heartland Animal Shelter
Maine -Niles Association of Special Recreation
Soul Harbor Ranch
Glenbrook South Instrumental League
Y.O.U. Youth & Opportunity United
Family Focus Organization
Niles Township Food Pantry
Leyden Township Food Pantry
Frisbie Senior Center
Unity in Community Foundation