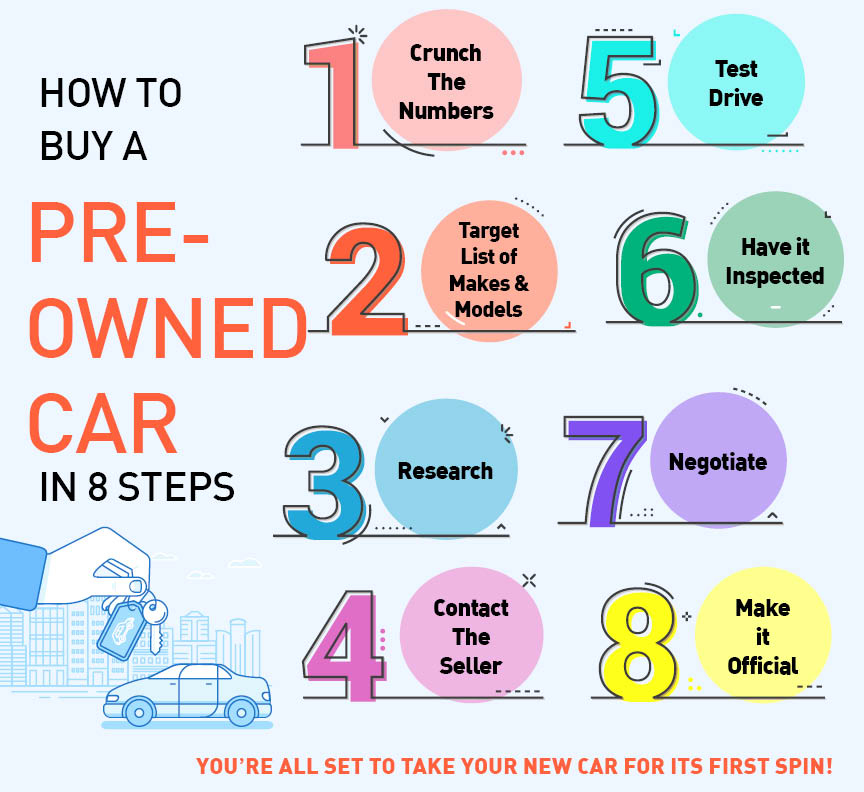 Step 1: Crunch the numbers
If you're paying with cash, you already have a budget in place. If you're taking out an auto loan, get your pre-approval before visiting the dealer's lot.  Apply for a loan at PFCU online or in person.
Step 2: Search for different makes and models on mypfcuWheelZone.com.
Narrow down your choices to three or four model cars.
Step 3: Research
Look for listings of your vehicles of choice. When you have some options to consider, obtain their vehicle history reports.  Many dealers on WheelZone will offer history reports or you can use Carfax.com.
Step 4: Contact the seller
Verify the information you've learned about each car and see if it's still in stock. If everything checks out, set up an appointment for a test drive.
Step 5: Test drive
During the test drive, pay attention to the acceleration, legroom and visibility of the car.
Step 6: Have it inspected
You can take the car to a mechanic for a professional inspection, or your pre-owned vehicle may be certified pre-owned (most pre-owned vehicles are) and have a warranty.  Purchasing an extended warranty through PFCU will add protection.
Step 7: Negotiate
Make an opening offer based on what you have determined to be the average price for your car.
Step 8: Make it official
Read the contract carefully before signing and be sure to get insurance.
You're all set to take your new car for its first spin!