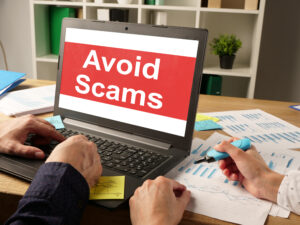 The latest scam is a phone call from someone posing to be the Fraud Department of a financial institution, such as PFCU. The fraudster will question the person on recent transactions and then ask for the last 8 digits of the person's debit/credit card. This is a scam!  Please note, PFCU/VISA or any other financial institution will never ask a member for their card number. 
In addition, fraudsters are finding a way to have the caller ID display the financial institution's phone number or a number that is similar.  If you receive a call from someone claiming to be from a financial institution and are not sure if it is true, hang up and call your financial institution to make sure it is them calling.
While there are new scams like these, the older scams have not gone away.  Be on your guard and look for phishing scams with emails and text messages. Phishing is when a fraudster pretends to be a trusted contact and encourages you to give access to sensitive information, account details, or credentials.  Just one click on a link to a fake website can give them your login and password.  After they steal your information, they can get control of your savings account, email and more. Some things to watch out for are:
High-pressure language and scare tactics
Misspelled words
Requests to click on links or attachments
Suspicious links. The URL should include the company name and website domain (mypfcu.com, for example). Always be cautious of shortened URLs from services, for example, bit.ly or tinyurl.com.
Fake email address – most companies use a short code to send text alerts, not an email address. Emails may be from a look-alike domain and not a legitimate firm or company.
Unfamiliar alerts that you did not sign up for.
If you are in doubt if an email or text is legitimate, do not click and do not reply.  Call the company using contact information on their website.
Another thing to remember is to guard yourself against check fraud.  While physical checks are still needed for some transactions, they are subject to fraud when stolen or lost.  You can help prevent unauthorized access to your online accounts by:
Reducing the use of checks by using online bill pay
Enrolling in eStatements
Regularly monitoring your account and promptly report unauthorized activity
And finally, remember to update your operating systems and web browsers on all your devices regularly.  This will help avoid viruses, scams, and other threats.