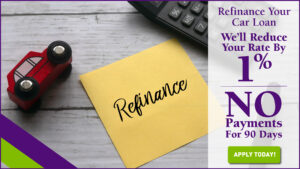 If you have a car loan with the dealer or at another financial institution, you can can refinance your loan at PFCU. We have great things that we'll do for you:
We'll Reduce You Rate by 1% APR*

NO Payments for 90 Days
Please call a Loan Officer at 847.697.3281 if you have questions. 
Subject to qualification. Restrictions apply. For loan amounts of $5,000 or more. Refinance is for the remaining term of the loan. Floor rate is 3.75% APR. Offer not available on auto loans currently financed at Partnership Financial Credit Union. To qualify for 90 day payment deferral, member must have a credit score of 625 or above and an active PFCU checking account (transaction within the last 30 days). Interest will accrue for the 90 days. Cannot take advantage of Skip-a-Pay for the first 6 months from the date of disbursal.