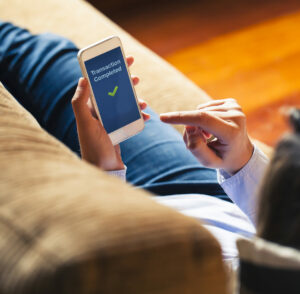 Mobile banking apps have revolutionized the way consumers interact with their financial institutions. According to a NerdWallet survey, 72% of banking customers use a mobile banking app. While mobile apps are convenient and increasingly popular, are they secure?  
Are Banking Mobile Apps Secure?
Mobile banking has an array of security protections that help keep members' accounts safe.  According to some security experts, mobile banking is safer than online banking because there is less risk of unknowingly downloading malicious software when using mobile.     
Safety Tips for Mobile Banking
Although cybersecurity experts say mobile banking is safe, we urge our members to take the following precautions.  
   •Use password-protected, secure Wi-Fi connections.
   •Avoid banking on unsecure internet connections, such as public Wi-Fi.
   •Use a password containing upper/lower case letters, numbers and symbols.
   •Set up alert notifications on the bank's app to help detect fraudulent activity.
To get the FREE PFCU Mobile app: Download on the App Store | Get it on Google Play
PFCU takes every measure possible to keep security measures up to date. We will never ask you for any personal information via email or text message. If you suspect you have received a fraudulent email or text, please contact us at 847.697.3281.