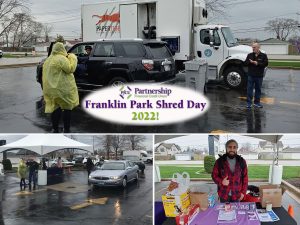 2022 Shred Days are on the following dates from 12-3 pm!
Please consider donating non-perishable food items to the below food pantries.  These community food pantries are extremely grateful for all food donations so that they can help those in need. 
With Your help and generosity,
we can make a difference!
Please do not bring electronics, we are unable to recycle or shred them.  Thank you again for your support.
The Franklin Park Shred Day on Friday, April 22 was a success even though the weather did not cooperate.
138 members dropped off 5,100 pounds of shred! PFCU staff weathered the rain and helped members unload their shredding.  Leyden Family Services was on-site and many generous members donated food to the organization.
Friday, June 10 –

455 W. Northwest Highway, Barrington
Donating to –

The Barrington Food Pantry
Friday, September 16 –

5940 Lincoln Ave., Morton Grove
Donating to –
Niles Township Food Pantry