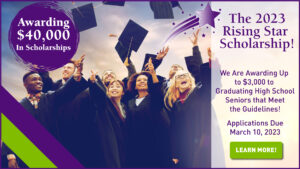 Partnership Financial Credit Union (PFCU) is pleased to announce that we will be awarding $40,000 in scholarships in 2023 to deserving students with up to $3,000 per recipient!    The PFCU Rising Star Scholarship Program is an opportunity for graduating high school seniors to receive support for their future accredited college, university, vocational or trade school of their choice.  Applicants will be evaluated on academic performance, financial need, and leadership abilities, including community involvement. 
To be eligible, applicants have to be graduating in the Spring of 2023 and they or their parent/guardian has to be a member of PFCU.  
Complete details on the scholarship are on the application.